How to Maximize Your Fast Food Restaurant Profit Margin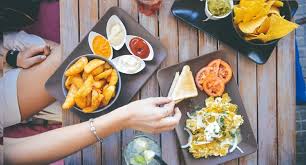 When you are running a fast food restaurant you want to make sure that you are able to make a good profit. This can be tricky because there are so many different factors that can influence your restaurant's profitability. There are a few key areas to consider, such as table turnover, menu engineering and overhead costs.
Quick service restaurants have higher profit margins than the restaurant industry as a whole
A quick service restaurant is a type of restaurant that requires less staff and use cheaper ingredients. This makes it more profitable. However, it is not the only type of restaurant that can be profitable.
Full service restaurants, on the other hand, have a higher labor cost, a larger menu, and a higher price tag. They also have higher operating expenses. It is important to keep all of your costs covered.
A full service restaurant should have a profit margin of at least three percent. The average quick service restaurant has a profit margin of six to nine percent. In fact, many QSRs have a higher profit margin than the industry average.
Profit margins are an important measure of the financial health of your restaurant. These can help you make informed business decisions. For example, you may want to change vendors or switch prices to boost profits.
Restaurants have a difficult time making a decent profit. This is due to a number of factors. Firstly, there is the competition. Next, the geographic location of your restaurant has a huge impact on your pricing strategy. Finally, the concept of your restaurant plays an important role in attracting customers.
Table turnover is crucial to your restaurant's profitability
Table turnover is a term used to describe the amount of time it takes to serve each party of two or more at a given table. The amount of time needed depends on a variety of factors.
A quick table turn can increase your profit. Restaurants can speed up the process by training staff in the appropriate techniques.
When calculating a table turnover rate, it is important to count the number of tables and seats in the restaurant. This is a good time to set a limit on the amount of time your guests are allowed to be in the dining room. If you allow them to stay too long, they will become irritable and may end up leaving early.
The average table turnover rate is about one hour and twenty minutes. During peak hours, you can set a shorter time limit for your customers. You can also use technology to improve your restaurant's efficiency. Using tablets can make it easier for your staff to take orders and pay for them from the table.
Overhead expenses affect your restaurant's profit margin
You want to keep overhead expenses in check. Restaurants with low overhead are generally more profitable than those that have high overhead. But it isn't enough to simply reduce costs. You must also find ways to increase sales. If you want to get a better idea of how your restaurant is performing, you can start by evaluating your gross and net profit margins.
Overhead costs include rent, utilities, supplies, and insurance. These are primarily fixed expenses that help keep the roof over your head. The gross profit margin is the revenue left over after a restaurant has factored in the cost of goods sold.
Investing in new technology can help your restaurant improve its efficiency. For example, self-service ordering systems can reduce labor costs. Another way to cut overhead expenses is to keep staff turnover to a minimum.
Increasing sales is one of the best ways to improve a restaurant's profits. You can do this by marketing your business, adding items to your menu, and improving your guest experience.
Menu engineering can increase your profit margin
Menu engineering is a process of analyzing a restaurant's menu and choosing the most profitable items. It is often done for printed restaurant menus, but it can also be applied to online and table-top menus.
The process of menu engineering can have a huge impact on a restaurant's profitability. It can lead to an 8% to 12% increase in profit margins in the first year.
The main goal of menu engineering is to increase profitability per guest. In order to do this, a restaurant owner must first analyze the popularity of its menu items. They should then try to eliminate under performing items, rebrand those that don't sell, and increase prices for those that do.
To do this, a menu engineer will need to look at the menus of other restaurants. Their food costs, portion sizes, and overall profitability will give them a sense of how well their menu works.
To start, a restaurant owner must determine which customers are the most profitable. Then they will need to design a menu around those customers.