Maggi Recipe Indian Street Style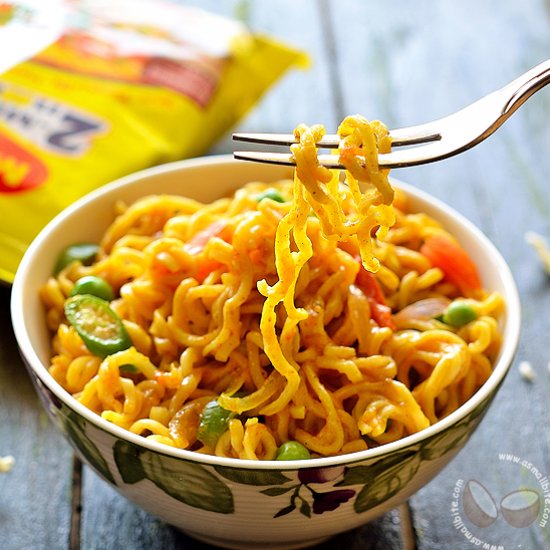 Maggi recipe indian street style takes your usual Maggi noodles to another level. The combination of veggies like onions, capsicum and tomatoes enhances the health factor of this delicious meal.
In a pan add butter, garlic and chilli and saute till onions become light pink. Add turmeric, red chili powder and garam masala powder.
Vegetable Masala Maggi
Vegetable masala maggi is a tasty twist to the basic maggi noodles recipe. This is a quick and easy Indian snack dish that can be made in minutes. The vegetables add a lot of nutrients to the noodles and make it more wholesome. It is a great snack option for kids and adults alike. It also makes for a delicious lunch or dinner when served with a salad.
This recipe is very simple to make and requires only a few ingredients. First, boil the maggi according to the instructions on the packet. Next, add the vegetable of your choice to the noodles. Finally, top the dish with a sprinkle of chaat masala and serve.
The preparation time for this dish is less than 5 minutes. It is a perfect snack for movie marathons or game nights. You can also try this maggi recipe with eggs or paneer to make it a filling meal.
To make this delicious and nutritious maggi, cook a few vegetables of your choice in oil or butter. Once the veggies are cooked, add the boiled maggi and stir well to combine them. Add salt, red chili powder, and garam masala to taste. Mix well and serve hot. You can garnish this maggi with chopped coriander to enhance its presentation. You can also use a combination of vegetables like french beans, carrots, and green peas to make this dish more colorful.
Spicy Curry Maggi
Maggi with chicken is a delicious snack that satisfies your hunger quickly. Finely chopped vegetables like capsicum, onion, tomatoes and carrot are cooked along with chicken and then mixed with maggi noodles. This dish is best served hot and garnished with coriander.
You can also make a variation of this recipe by adding some spices like chili powder or oregano. This is a simple and easy-to-make recipe that can be enjoyed by kids and adults alike. You can even add some boiled eggs for an added protein kick.
Adding extra water can also make your maggi more soupy and satisfying. This is a great option for people who enjoy the taste of the maggi masala but don't like the texture of dry noodles. This type of maggi is ideal for those who are trying to lose weight or are watching their carb intake.
To prepare this type of maggi, add some oil to a pan and heat it on medium flame for about 1 minute. Add ginger and green chillies and saute them for a few seconds. Then, add the onions and saute them for another minute. Once the onions are translucent, add the tomato and capsicum and cook them for a few minutes. Once the vegetables are cooked, add 2 maggi masala sachets and turmeric powder. Mix well and switch off the stove.
Cheese Maggi
If you love cheese then this is the recipe for you. This is an easy version of Maggi that uses a lot of grated cheese to make it extra gooey and cheesy. All you need to do is add a lot of shredded cheese on top of cooked Maggi and cover it for two minutes. This will allow the cheese to melt beautifully into the noodles. You can also add red chilli flakes and fried onions to make it more spicy. This is a perfect snack to have when you are feeling hungry.
Another variation of Maggi is to use it as a filling in an omelette. This is a very innovative and unique way to have maggi. It is very delicious and easy to prepare. All you need to do is cook a batch of maggi the usual way. Then, in a separate pan, heat some oil and drop in an egg. Whisk it well and then mix it with the Maggi noodles. You can garnish it with some chopped coriander and serve it.
This is a great option for people who can't handle spice. This simple recipe is just as tasty as it is convenient. All you need to do is boil some water and then add Maggi in it. Once it is cooked, add some boiled corn and salt and white pepper and cheddar. This is a very comforting dish that can be enjoyed by all.
Other Variations
Maggi Noodles are one of the most loved instant noodles in India. It is a staple in every Indian household. It is easy to make, quick, and satiates the hunger pangs instantly. It can be eaten as a snack, or as a filling lunch or dinner. There are several variations of maggi that you can try out, including vegetable masala maggi, schezwan maggi, and cheese maggi. These variations will add a new twist to the regular maggi noodles and make it more delicious.
To prepare Vegetable Masala Maggi, heat oil in a pan, add cumin seeds, let them crackle and then add chopped onions. Saute the onions on medium flame for a couple of minutes. Then, add ginger garlic paste and saute for a few seconds. Add capsicum, carrots, peas, tomatoes and salt and mix well. Cook them for 2-3 minutes. Now add the cooked maggi and mix it thoroughly. Add schezwan sauce and tomato ketchup and mix well. Finally, sprinkle some coriander leaves and serve.
Another variation of Maggi is Egg Bhurji Maggi. It is prepared by cooking Maggi the usual way in one burner and then dropping an egg over it. Then whisk it vigorously and mix the two together. It is one of the most popular and tastiest variations of maggi. You can also add some green chilies if you like.