Handbag Color That Goes With Everything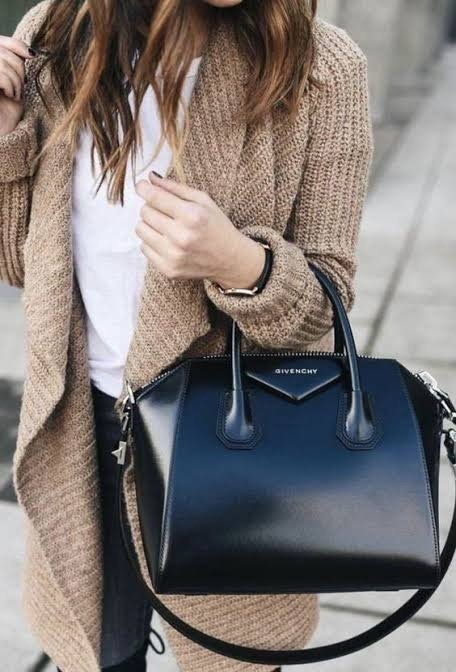 Are you struggling to find a handbag color that goes with everything? If yes, you should consider a handbag in shades of brown or tan.
They're safe options that complement bright colors and neutrals alike. In addition, they look sophisticated and classy.
Black
Black is one of the most reliable handbag colors for women who have a lot of different outfits to work with. A dark colored handbag will blend with your outfits and make you look elegant and expensive without being too much of a statement. On the other hand, a light colored bag will draw too much attention to itself and will look more like a cheap dusted wrinkled bag.
Similarly, charcoal gray is a great option for a handbag color that goes with everything. Its value is lighter than black and darker than a light gray purse, which means that it will match almost all of the colors in your wardrobe.
If you're looking for a handbag color that will go with most of your outfits, but don't want to invest in a boring or overly conservative purse, try a pop of color. A bright yellow bag can add a touch of fun to your wardrobe, but still pairs well with sophisticated ensembles. A red purse will also turn heads and add a touch of drama to your style.
Tan
When it comes to handbag colors that go with everything, tan bags are a top choice. From saddle tan to rich cognac, this neutral shade complements warm and earthy outfits while seamlessly blending with more casual and business casual styles. If you love a minimal and refined style, opt for a tan bag that goes with most of your wardrobe and is easy to pair with shoes and clothing.
Green-toned purses are also a good option, particularly seafoam and pistachio, which work well with light to medium colored clothes. As fall approaches, try a bag in a deeper shade like olive or hunter green to elevate earth-toned ensembles.
If you're looking to make a statement, brightly colored handbags are a great way to grab attention. Vibrant hues like mustard yellow and royal blue instantly add a pop of color to your look while pairing beautifully with neutral and monochromatic outfits.
Burgundy
Burgundy is a deeper shade of red that can be worn for both casual and formal occasions. It pairs well with many neutrals, and even some bright colors like green and purple can work as accents when paired correctly.
When it comes to color psychology, burgundy evokes images of wine, luxury, wealth, power and ambition. The color also stimulates the appetite and can help to improve blood circulation. However, the hue can be overpowering if used too much and can be associated with arrogance, unfriendliness or malice, depending on its intensity.
For a classic and sophisticated look, a burgundy handbag can pair well with a black dress. It can also be worn with a brown or chocolate suit for a sophisticated office outfit. Burgundy bags also look stunning when paired with light natural shades like beige, light yellow, pastel pink and mint. However, it is best to avoid wearing a burgundy bag with dark clothes like navy blue or graphite as the color will fade into them. Burgundy also works well with white dresses as it will give off a seductive and mysterious look.
Red
Red is a bold, classic handbag color that works with almost anything. It's the ideal purse choice for summer, and it's also perfect for Valentine's Day. Whether you choose a red Duxbury satchel or a mini Notting Hill, a red bag will grab attention and show off your style.
Blue is another versatile handbag color that goes with everything. From navy to tea green, there are plenty of shades of blue that can enhance your outfits. Green bags are also in style, from pistachio to forest. You can even try a deep brown or terracotta purse for an earthy, rustic look.
Gray is another neutral handbag shade that can go with nearly any outfit. You can choose a charcoal gray that is similar to black or opt for a lighter value like silver. Gray purses pair well with blue, pink, and red outfits. They can also enhance monochromatic or neutral looks with a pop of color. A grey purse can also match the color of your shoes or a neutral dress. When deciding on a handbag color, consider your personal style, wardrobe color scheme, and practicality.
Yellow
For a bright yet sophisticated look, consider carrying a yellow handbag. Symbolizing sunshine and joy, this color instantly brings a smile to your face. It can also be considered a neutral shade that effortlessly blends with various clothing colors.
Whether you are looking for a tote bag, hobo bag, satchel or clutch, there is a wide variety of designs available in yellow to suit your personal style. Choose from designer brands such as Jacquemus, Valentino and JW Anderson to find a handbag that will suit your ensemble.
The best handbag color for everything is a personal choice that takes into account your wardrobe and the color palettes you often wear. Regardless of the shade, a bag that is versatile and complements your wardrobe will serve you well for years to come. If you are looking for a bold statement, try incorporating navy blue, burgundy, emerald green or mustard yellow into your collection. These shades are perfect for elevating your wardrobe and making a statement that is sure to stand out from the crowd.