Are Low Cut Jeans Coming Back?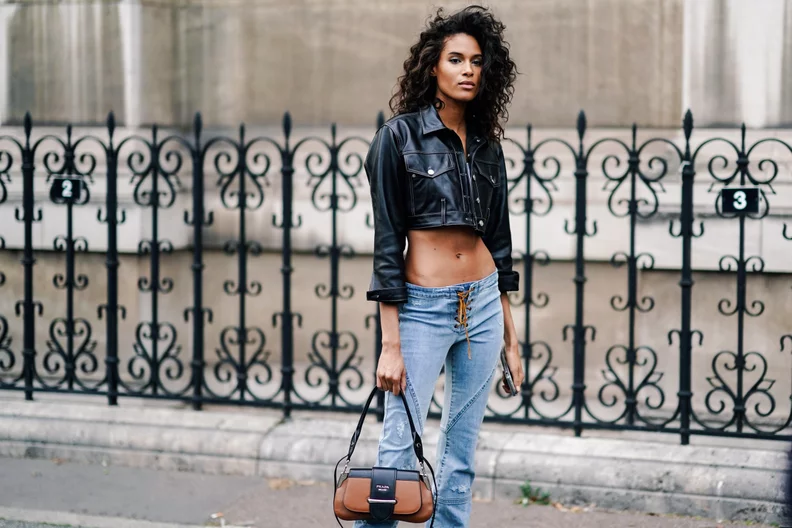 There's been a lot of chatter that low cut jeans are coming back. And while the resurgence of the '90s and early 2000s trend has been met with mild moral panic on social media from high-waisted denim loyalists, there is a case to be made for their return.
On the runways, brands like Jacquemus and Lecourt Mansion have resurrected baggy, low-waist jeans, and they're everywhere on shopping sites and TikTok.
1. They're back in a big way
Amid a slew of throwback trends like pleated skirts, ankle cropped pants, and sleeveless sweaters, the low cut jeans of the early 00s are back—and they're here to stay. The pants, which were popularized by Britney Spears and Christina Aguilera as they shook their butts onstage, are now being worn by a host of celebrities and luxury fashion brands. And they're not alone: baggy low-rise jeans and trousers, dramatic pooling wide legs, and formfitting knee-length flares are also making a comeback in 2023.
"From tube tops to velour tracksuits, the 00s have been making a comeback on shopping sites and corners of the internet occupied by Gen Z, including TikTok," says Morgane Le Caer, content lead at Lyst, a fashion search engine that specializes in vintage pieces. Asal Tehrani, a fashion blogger and the founder of Bella Hadid's favorite Depop shop @susamusa, credits this revival to a nostalgia for all things '90s and '00s. "I think that people are nostalgic for the days of Paris Hilton and The Simple Life, Freddie Mercury and Jane Birkin, and the more conservatively dressed women that they saw on TV and in magazines," she says.
And so it's no surprise that designers are embracing the look. This season, we've seen puddle-hem jeans from Jacquemus, Masha Popova, and Altuzarra and looser silhouettes from Ragged Priest and Linder. Even fast-fashion brands are getting in on the action, including Miss Sixty, which was a favored brand of celebrities in the early aughts.
2. They're a millennial staple
Very few items of clothing elicit a visceral response from millennials like low-cut jeans. Mention them to a group of 20-somethings and you might get an eye roll, a fake gagging gesture or a full-out clapback.
But despite this generation's disdain for them, trend forecasters and retail analytics data suggest that the pants are poised to make a comeback. In fact, the trend may already be here if you've noticed that more and more designers are adding pants with waistlines that are lower than usual.
And while some are simply showcasing the style's return with baggy jeans, others are taking things up a notch with a new styling trick: the 'whale tail' or 'g-string peekaboo.' In recent weeks, fans on Instagram have seen models like Bella Hadid and Dua Lipa wearing baggy high-waisted jeans with a yard of midriff exposed, thanks to the new crisscrossed or V-shaped waistlines that are showing up on their jeans.
Asal Tehrani, the designer behind Bella's favourite Depop shop @susamusa, believes that the revival of the 00s is one reason why low-cut jeans are back. "From tube tops to velour tracksuits, trends from the early 2000s have been making a strong comeback among Gen Z shoppers and TikTok users," she says. "It was only a matter of time before low-rise jeans resurfaced."
3. They're a style staple
The resurgence of all things 00s has been alarming for some, with scrunchies and ballet pumps causing mild moral panic in the high-waist denim loyalists. But there's one part of the Y2K renaissance that is truly terrifying: low cut jeans.
During their peak of popularity in the early 2000s, low-cut jeans were a fashion staple worn by celebrities and Instagram influencers alike. Keira Knightley, Britney Spears and Destiny's Child all made the trendy silhouette their own. The trend even inspired a range of fashion accessories that were designed to be paired with baggy low-waist jeans – think waist beads and thong straps that could be seen through the pants' bottom hem.
To make the style even more sexy, some jeans had their denim wash lightest at the knees and darker toward the bottom to create an ombre effect. Others were styled to show off the wearer's thong with a "whale tail," as pictured on actress Carmen Electra at the 2001 premiere of The Others.
As the fashion wheel has turned full circle, some luxe brands have reintroduced low-cut jeans into their collections. Diesel, Lecourt Mansion, and Gauchere have all offered versions of the trendy look that sit just below the navel. And of course, there are plenty of affordable options as well. So, is it time to embrace the sexy style that brought us so many memorable 00s trends?
4. They're a wardrobe staple
A slew of millennials have been wearing low cut jeans this summer, but their reaction has been polarizing. While some have welcomed the resurgence of a look that was ubiquitous in the early 2000s, others decried it as another reminder of the decade's obsession with extreme thinness and body-shaming. Some even noted that the resurgent style could have a negative health impact: the pants can pinch a nerve in the thigh and cause numbness or tingling, similar to foot-binding or a hymen piercing.
The comeback of the low-slung silhouette has been fueled by designers who incorporated the trend on their runways for spring and summer 2023. From Linder to IAMGIA and Tom Ford, labels such as Alexander McQueen paired bumster trousers with sheer tops for a '90s-meets-now vibe, while MSGM, Molly Goddard and Vaquera offered low-slung denim in baggy, oversized silhouettes. A host of influencers including Julia Fox, Priyanka Chopra and Bella Hadid have also been spotted wearing the trend, which is often laced up or accessorized with belts for a more sexy look.
The return of the low-cut jean is just the latest sign that all things Y2K are making a comeback. From whale tails and trucker hats to micro mini skirts and bedazzled Bebe tops, the decade's kitschy styles are seeing a resurgence on both Instagram and TikTok. And while some of these throwback trends have been met with a warm reception (who doesn't love a good tie-front baby tee?), others have been greeted with an audible groan (see: platform boots, sock buns and baguette bags).