Website Maintenance Checklist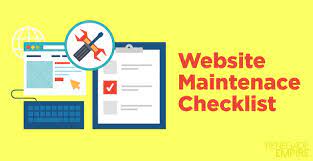 You've spent a lot of time and money creating your business website, so it only makes sense to maintain it regularly. The right maintenance strategy can help you achieve your wider business goals, increase conversions, and build customer loyalty.
Performing regular website maintenance is essential for keeping your site safe and secure from hacks and other malicious attacks. It also ensures that your site is operating efficiently and smoothly.
Update Your Content
If you want your website to perform well and rank well in search engines, then you need to update your content on a regular basis. Google loves websites that regularly update their content because it shows they care about their website and its visitors.
Updating your website content also helps to build trust with your website visitors, which can help you achieve higher rankings in the search engines. In addition to updating your content, you need to make sure that your site is secure and doesn't contain any phishing scams or malware.
When it comes to updating your website, you need to scan through all of its visual and written content. This can be a tedious task, but it's important to do so on a regular basis. It's also important to check that all of your images are relevant and aligned with your brand identity. This will ensure that your website looks as professional and attractive as possible.
Update Your Plugins
Keeping your plugins up to date on a regular basis is essential for your website's security and performance. Updates fix known vulnerabilities and keep your site safe from hackers.
Some of these updates may bring unexpected errors, so it's a good idea to take a backup before updating. You can also use a WordPress plugin to roll back your plugins in case they cause problems.
You can also manage your plugins in bulk by enabling automatic updates. Just select the plugins that need to be updated and choose the option you want in the Bulk Actions dropdown.
Once you've done this, you can see the changes in the newer version of your plugin by going to Plugins – Installed Plugins and clicking on each one. A screenshot comparison will be displayed, allowing you to compare the change in your site's appearance and functionality.
Check Your Site's Load Time
Load time is a key factor in how well your website performs. It can affect everything from conversion rates to Google search rankings.
A good way to measure load time is with a tool called PageSpeed Insights. This tool is developed by Google, and it makes it simple to understand what's going on with your site's speed.
Browsers cache a lot of information (stylesheets, images, JavaScript files) so that they don't have to reload the entire page when someone returns to your site. This can dramatically speed up load time, as it reduces the number of HTTP requests that need to be sent.
Pingdom is a great free online tool that gives you quick, actionable insights into your site's performance. It gives each load time metric a letter grade to help you prioritize what you need to fix, and it also offers simple explanations of the most important metrics.
Test Your Site in Different Browsers
When you're building a website, it's crucial to test it across different browsers and devices. This helps ensure that your site will work for everyone who uses it, and that they can access the information they need.
This can be done manually, or you can use automated tools. Using the right tool can make a huge difference to how well your site works.
Generally, the best approach is to start with the most popular browsers and then expand your coverage area. Getting this right can have a positive impact on your brand and your bottom line.
Some options for testing your site include asking friends and family to check it out or hiring a professional user testing service. These services can cost money but offer more extensive tests.
Webstoryhunt is an online news portal focused on delivering news on the latest technology, apps and software, science, space and health. We bring you the latest facts and information that is mostly hidden from the eyes of the common man.