Best Browser For Low End PC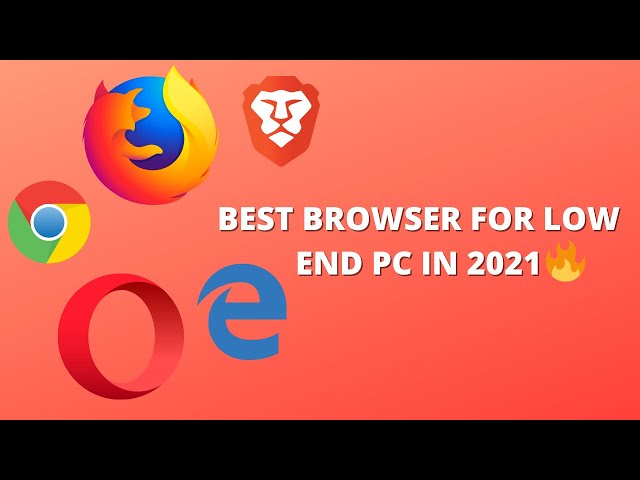 K-Meleon is a browser that has been specifically designed to run well on older PCs. It uses the same engine as Firefox but without a lot of extra features. It also has an option to limit RAM usage.
UR browser is available for Windows, macOS, and Linux. Its minimal use of system resources means that it can be used on old computers without causing a slowdown.
K-Meleon
K-Meleon is a web browser for Windows that uses Gecko, the same layout engine used by Firefox. It is a lightweight alternative to the heavier, more feature-rich web browsers and aims to use less memory than its competitors. It features tab browsing, a built-in Ad Blocker and an assortment of plugins for enhancing the functionality.
The K-Meleon browser is completely free software, released under the GNU General Public License. It is developed by a team of volunteer developers and is designed to run on older, limited hardware. It is able to support most browser plugins and is a fast, stable browser. K-Meleon also performs well when tested with the HTML 5 Test and has a high score.
In early reviews, critics praised the browser's lightweight and classic user interface, which was modeled after Internet Explorer. It has a tabbed interface and emphasizes performance over fancy looks. Its UI is simple, making it easy to navigate and manage multiple tabs. Unlike popular browsers, which have systems for managing extensions, K-Meleon's configs and macros require a learning curve to customize the browser.
K-Meleon is a fully customizable browser, although some websites may flag it and tell users to use something more contemporary. It does not suck up memory or CPU like its bigger cousins, but it does have limitations, especially in its JavaScript support. It is, therefore, important to know the system requirements of your computer before using this browser.
Pale Moon
Pale Moon is a Firefox-based web browser that has a focus on customization and efficiency. The browser is fully portable and uses fewer system resources than some other alternatives. It is also designed to respect users' privacy, avoiding telemetry and data collection. It also does not attempt to maximize browser speed, relying instead on stability and usability. This approach means that some features that Mozilla no longer supports, such as Tab Groups or Panorama, have been removed from Pale Moon. However, the developer has created add-ons that users can install to restore them if desired.
The browser has full support for NPAPI and XUL plugins and a complete set of themes, making it very customizable. It also offers a range of security settings, including a password manager, a do not track option, and a secure connection feature. It also has a set of tools for developers, including an Inspector, Web Console, Debugger, and Style Editor.
The browser has been updated to the latest version of Gecko, and includes a few new features. For example, the browser will now display sites with mixed content in a different color in the address bar. It has also added support for a number of Firefox add-ons and a synchronization service that can synchronize bookmarks, passwords, history, and some preferences between Pale Moon installations.
UR Browser
The UR browser is a free web browser that offers privacy-focused features. It is based on Chromium and offers a wide range of auxiliary functions that make it stand out from the competition. In addition to its basic browsing capabilities, UR browser includes a built-in ad blocker and a VPN that protects your privacy while online. It also automatically redirects websites to HTTPS, which encrypts data sent over the internet. This ensures that your information is not stolen or misused by malicious sites.
Another great feature of UR is its ability to prevent tracking by blocking cookies and other data collectors. The browser does this by using an in-house database that lists suspicious files and blocks them from being downloaded or opened. It can also block ads and other intrusive content that can slow down page loading. Additionally, the UR browser can detect malware and phishing attempts and alert you if the site is known to have these vulnerabilities.
UR browser is a newcomer to the internet security industry, but it has made a big splash with its features and functionality. It is the only known browser with a built-in malware scanner and allows users to choose their own privacy level. For example, the lowest setting offers anti-fingerprinting and HTTPS redirection, while the highest level provides tracker blockers and ad blockers.
Midori
Midori is a lightweight web browser beloved by the Linux community. It uses WebKit and presents a minimalist design. The browser is easy to use and offers a range of features and functionality, including internationalized domain name support and a speed dial. It also supports a number of plugins, including Adobe Flash and Google Chromecast. Midori also has a native Japanese handwriting recognition, which recognizes both hiragana and katakana. The feature allows users to search for kanji by simply drawing them on the keyboard. It can be used as an alternative to traditional character dictionaries.
Midori also has a privacy mode, which disables DNS prefetching and referrers. It can be enabled by using the command line options -a and -c. The browser will still keep your normal preferences, cookies and shortcuts. It will not, however, save any changes you make during this mode.
Midori is built on three software giants: GTK+ provides the buttons, windows and menus; WebKitGTK+ draws and controls web pages; and libsoup downloads those pages. Midori is also compatible with other GTK+-based desktop environments, including Xfce, Elementary OS and Gnome. It also supports a wide range of plugins, including nspluginwrapper. nspluginwrapper lets you run plugins in a separate process so that they can't crash the browser or hog system resources. Changing the cache folder (to tmpfs) can help you reduce the amount of RAM and CPU that the browser consumes.